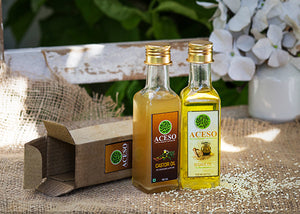 The Unmatched Purity
"Aceso : Where purity meets perfection, our products redefine wellness. Unleash the extraordinary with uncompromised purity and Unveil the path to good health."
Artisanal Formulations
Crafted carefully by the founder herself, every formulation is studied in depth and made to perfection.
Traceable Ingredients Sourcing
Our ingredients are sourced locally from ethical farmers.
Small Batch Production
Keeping the purity and authenticity intact, we make only small batches.
Waterless Beauty
Each and every product from Aceso Oils and Herbs has 0% water in it. This means 100% potency of the oils which helps in delivering maximum results.
Testimonials
This coconut oil is the best! It has a rich coconut flavor and is perfect for cooking and baking. I also use it as a body lotion and it leaves my skin feeling amazing. Will keep on re ordering this

Mrs. Surbhi Arora (Indore)
My Skin is very sensitive and oily but Divya Vadan Serum has turned out to be magic on my skin. I have been using this Serum everyday for more than two months and it has not only lightened my dark spots but also helped in even my skin tone, giving me a glowing skin. I would definitely recommend this product.


Ruchika Jain (Delhi)
I switched to Aceso cold-pressed oils after learning about the benefits of unrefined oils, There healthy oil collection is vast. Not only do they taste better, but they're also better for my health. I've noticed an improvement in my digestion and overall energy levels since making the switch.

Miss Mitali gupta (Gurgaon)
Thank you so much for creating such an amazing Fenugreek hair oil! I've tried so many products over the years, but yours is by far the best. I can't imagine ever going back to my old hair care routine now that I've discovered your product.


Amii (Mumbai)
Aceso Almond Honey scrub is so good, it exfoliates and cleanse pores, leaving my skin smooth and glowing.
I really love it.

Geetika Gauba (Delhi)