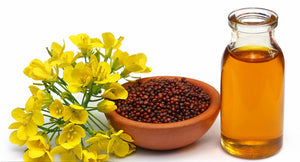 How Cold Pressed Mustard Oil Is Useful and Beneficial for Us?
The cold pressed Mustard oil is extracted from mustard seeds. It is considered as an excellent source of vitamin D, which improves immunity, improves thyroid function, and prevents us from various diseases. It is often used as part of prevention and complex therapy. Through this article, we will discuss the uses and benefits of cold-pressed mustard oil. So, Let's get started:- 
For men and women
Consuming cold pressed mustard oil regularly, the adult population provides themselves with vitamins and essential fatty acids.
Having a positive effect on the state of the whole organism, the oil contributes to:
improvement of the cardiovascular system

lowering cholesterol

maintaining hormonal levels

stimulation of appetite

prevention of viral respiratory diseases

normalization of metabolic processes

getting rid of constipation
The skin regenerates, smoothest, and the appearance of wrinkles is delayed indefinitely.
But perhaps most of all in cold pressed mustard oil women are attracted by the fact that it helps to get rid of extra pounds. 
Benefits for children
Is cold presses mustard oil good for children? The very fact that cold-pressed mustard oil is rich in vitamin D makes the cold-pressed mustard oil valuable for a growing organism. 
Cold-pressed Mustard oil can be added in small amounts to the meals of your child for strengthening their immune system. 
Cold-pressed Mustard oil becomes a good help as an external (rubbing) remedy for the treatment of children prone to acute respiratory infections.
During pregnancy
Natural foods, which include cold pressed mustard oil, should be the diet of the expectant mother. 
Cold-pressed Mustard oil, when taken internally by a pregnant and nursing mother, helps maintain immunity, and external use prevents the appearance of stretch marks. 
In What diseases cold-pressed mustard oil is used as treatment? 
The  healing properties of cold-pressed mustard oil make it possible to use this product both in traditional medicine and as an additional remedy for various ailments. You can use if for:-
Pain in the joints

Pleurisy

Rheumatism

A cold

Diseases of the urinary system

Helminthiasis

Tumors

Skin problems
Studies confirm that regular oil consumption reduces the risk of developing cardiovascular diseases. 
Application of cold pressed mustard seed oil
Cold-pressed Mustard oil is used in cooking for dressing dishes and frying, for baking and canning.
Medicine uses oil as part of ointments.
Perfumers and soap makers have also found use in their fields.
And even for technical purposes, the product was not deprived of attention: the cold pressed oil is used as a lubricant for motors and mechanisms operating at low temperatures.
How to use cold pressed mustard oil at home?
You can use Aceso cold pressed mustard oil:-
The patient's chest and back are rubbed to redness with this oil. In order not to spoil the bed linen, it is recommended to put on an old T-shirt on the patient. 
Use cold-pressed oil in purifying and nourishing face masks. Cold pressed Mustard and cold-pressed coconut oils are mixed in equal proportions, a few drops of aloe juice are added. Apply and leave this mask for 15-20 minutes and wash off with warm water properly. 
Mix in equal proportions of cocoa-butter and mustard. Rub into problem areas of the skin daily. The cold pressed mustard oil prevent us from the appearance of stretch marks.  
Cold-pressed Mustard oil can be safely used for frying and baking instead of sunflower oil. 
If people use it for potatoes, meat and fish fried on it do not burn, acquires a pleasant yellowish tint with it. 
Cold-pressed Mustard oil can be poured over salted herring, and the usual snack will become spicy. 
The cold-pressed mustard oil acquire a pleasant aroma and rich taste. Even an ordinary vinaigrette becomes much tastier. 
Conclusion:- 
These are various remarkable benefits and uses which clears the effectiveness of pure and natural Aceso cold-pressed oil. For more information regarding Aceso cold-pressed oils usage and benefits you can contact us freely.
---