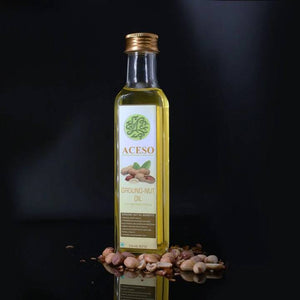 What Are The Health Benefits Of Using Peanut Oil?
Peanut oil, also known as the groundnut or Andrei oil, is a refined, edible vegetable oil made by steaming the edible seeds of the peanut plant or by extracting them in a hydraulic press.
Peanut or groundnut is the mature fruit or seed of Arachis Hypognea L. The plant is a small annual herb, with odd-pinnate leaves and yellow papilionaceous flowers, it is native to Brazil but is widely cultivated in the southern United States, China, and other subtropical regions. Peanuts are used to make vegetable oil used in the American tropics for cooking.
The peanut used to make this type of oil corresponds to a variety whose fatty acid ratio is considerably higher. Aceso groundnut oil is obtained simply by pressing, which is why it is considered 100% Natural & Pure Cold Pressed oil.
This oil is very light in colour and its ability to withstand high temperatures makes it an ideal oil in the kitchen as frying oil. Its excellent aroma and perfume make it suitable for seasoning salads and meals, marinating, sauteing vegetables, etc. since its roasted flavour gives it a pleasant smoky tone and notes of roasted nuts that give it a pleasant finish on the palate.
This oil also has a high cooking or smoking point (215-220ºC) which makes it an excellent oil for sautéing and searing, which, combined with other oils, increases their useful life in frying. This is one of the reasons why peanut oil is the most used in frying and sautéing in oriental cuisine.
Depending on the manufacturing process, cold-pressed peanut oil can have a wide range of flavours, ranging from mild and sweet to tangy and nutty.
Properties and benefits of peanut oil
Health:- Aceso cold-pressed Peanut oil

is good for the heart, as found in some studies on this oil. It's not as popular oil as olive oil or

cold-pressed almond oil

, but it does have a treasure trove of nutritional and health benefits.
Improve blood circulation:-

It helps reduce the formation of atheromas that can be deposited on the arterial walls and reduce their calibre, improving blood circulation and oxygenation.
Vitamin E

:- It is high in vitamin E. Just one tablespoon of

Aceso peanut oil

contains 11% of the recommended daily intake of vitamin E. Vitamin E acts as an antioxidant, protecting the body from harmful substances such as free radicals. Vitamin E also helps prevent clogged arteries by blocking the conversion of cholesterol into waxy fatty deposits.
Mineral

:- It contains iron and zinc, important minerals for the growth and development of the organism, both of the cells and of the bone tissues. Zinc has catalytic, structural, and regulatory functions, being an essential nutrient for human health, knowledge of this mineral is extensive.
Moisturizer:- Peanut oil is a great moisturizer for the skin and can be used for body massages that are very relaxing and comforting. Specifically, it increases the strength of cell membranes, even preventing cell degradation and strengthening healing.
Increase insulin secretion:-

Many studies show unsaturated fatty acids can improve blood sugar levels. Replacing saturated fat with unsaturated fat also increases insulin secretion, which helps keep blood sugar levels low. A study of mice also proves this. The experiment was carried out by giving a diet fortified with peanut oil to a diabetic rat. As a result, blood sugar levels in the mice decreased.
Ways to use peanut oil
Sauteed or sealed fish, meat, etc.

Sauteed and cooked vegetables in the wok.

Asian dressings and sauces.

Dressing and flavoring in salads.

Marinated olives, marinades, cheeses, dried tomatoes, roasted vegetables, etc.

Preparation of olive paste, vegetables, etc.

Manufacture of sweet cookies, cereal bars, cake batters, cakes, brownies, etc.

Preparation of crackers and snacks.

In treatments indicated for skin conditions, such as acne, wrinkles, and removing dandruff on the scalp.

As an essential oil for massages and relieving joint pain.
Final Words:- 
Aceso cold pressed Peanut oil is an oil made from processed peanuts that can be used for frying, sautéing, and in various other cooking techniques. This oil has a neutral taste and has high heat resistance so it does not change the taste of food and is also suitable for deep-frying. Because it is made from peanuts, this oil contains various nutrients that are good for the body. 
For more information regarding benefits of cold-pressed peanut oil and other cold pressed oil such as coconut oil, walnut oil, almond oil, castor oil etc, you can contact us freely.
---